Captivating, authentic introductions to your hotel
There's a warm connection every time family and friends share experiences - especially through photos.
Engage your guests with beautiful, perpetual photo contests and turn memorable moments into amazing brand connections around the world.
The competition is on
Finalists share their photos with family and friends to rally votes and move up the ranks, drumming up a lot of activity and new traffic to your hotel's website.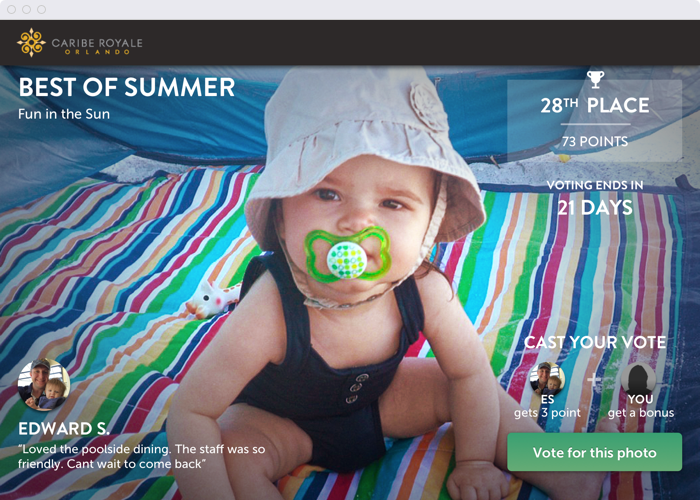 An amazing first impression
Each new vote unlocks an incentive that family and friends can redeem for a future stay.
Just like that, a single guest can help you make the warmest introduction imaginable to hundreds of potential future guests.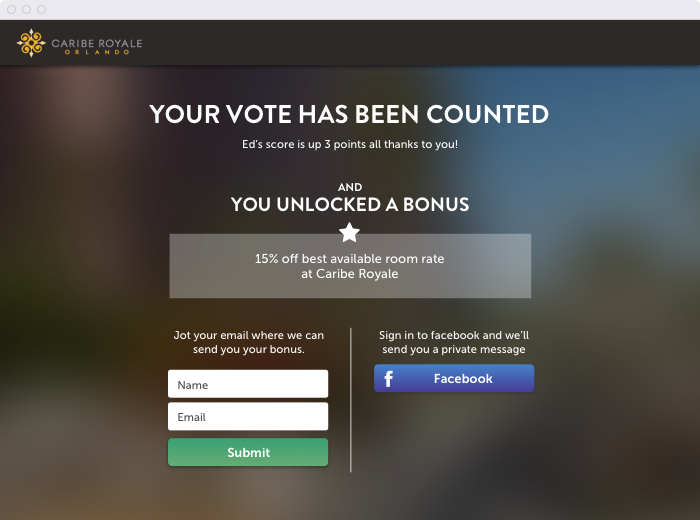 An extended interaction
Rekindle a favorite moment of a past guest to keep in touch.
Periodic emails update finalists with their current standings, highlighting a memorable experience, and encouraging them to share.
Your guests are actively engaged as the contest proceeds, extending the time they spend with your brand as they are well on their way to becoming a truly loyal brand ambassador.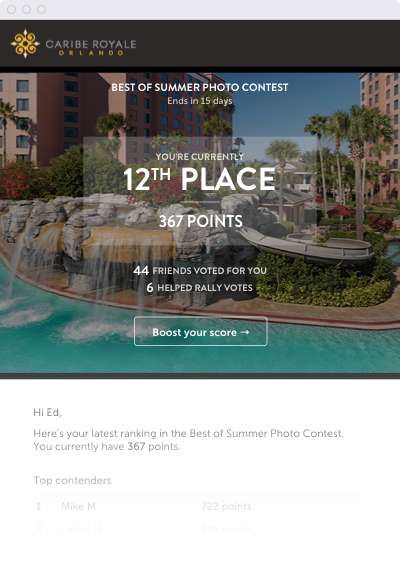 Everyone wins
At the end of each contest, finalists that you rank highest receive the top prizes.
But everyone's a winner. Guests who shared their stories along with friends & family who took part in the contest can receive a certificate towards a future stay.
Plus, when warm introductions lead to new guests, your hotel is the big winner.

New
Photo Explorer, an entirely new look at your hotel
Captivate and inspire a new audience of global travelers, and tell your hotel's richer story.
Engage and nurture every type of visitor to your site, from curious onlookers, to past guests and their friends & family. Give each one a unique, custom and genuine experience.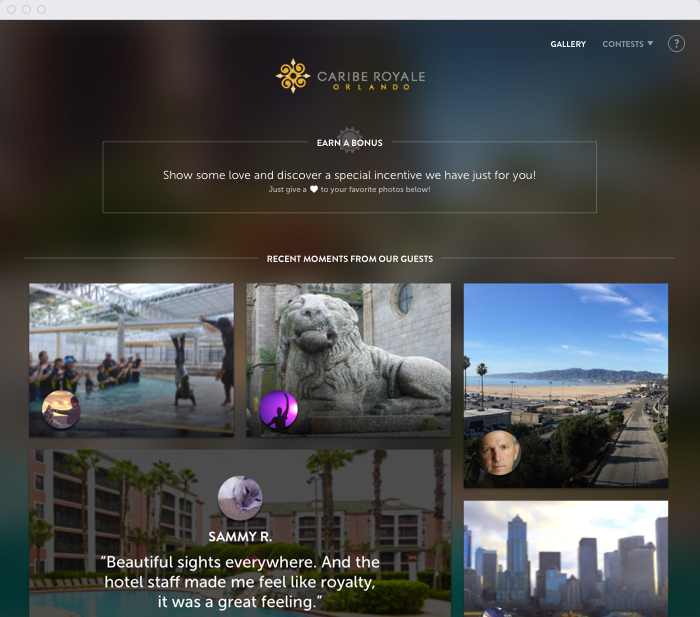 Designed to earn new guests
Photo Advocacy taps into an entirely new marketing channel delivering significant, measurable impact to a hotel's bottom line.
Massive reach
Your guests have it, more so than any advertisement - and their incredible stories will be shared to a like-minded audience who are listening.
Gradual engagement
Deliver a unique personal experience to each one of your guests' social connections and take them down a path from strong initial brand connection to future guest.
Measurable ROI
When engaged correctly, guest referrals become a powerful channel of business. Flip.to tracks it all, right down to the booked room nights earned by each individual advocate.
Crowdsource creativity
Easily curate your hotel's brand story through the creativity and the authentic voice of your guests.
Meaningful moments
Capture everything from poetic sunsets to silly family selfies that bring out the personality and genuine guest experience of your hotel.
Visual library
Constantly refresh a library of reusable curated content from a stream of seasonal, authentic photos and candid, personal quotes.
Amplify marketing
Reveal new brand stories and compelling images to feed your existing marketing campaigns (and avoid using "canned" photos).
Request a demo